Disney Movies from 90s: There is something incredible about the 1990s film era that cannot be matched. They will fill you with warm sensations, a few tears, and a lot of smiles.
Disney Movies from 90s
90s Disney Movies: If you grew up in the 1990s, you know what a good period it was. The appeal includes blockbuster video stores, see-through phones, and plaid clothing. These vintage films are as entertaining today as they were when they were first released. From 1989 through 1999, Disney experienced a Renaissance period.
While Disney produced a couple of fantastic films in the 1980s, the company returned to producing highly praised masterpieces in the 1990s. We get traditional princess stories as well as heroic acts. These are the stories that propelled Disney to success in the beginning. There are a few distinguishing similarities in these films that I believe make them worth seeing again and again.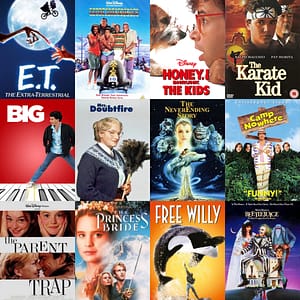 Beautiful animation
I believe Disney returned to this quality of animation with The Princess and the Frog in 2009, and Disney's Encanto simply seals the deal. Many people refer to this period as Disney's resurgence, and it is now Disney's most profitable period in history.
Disney dominated the film business in the 1990s, so it's time to dig deeper into these nostalgic films that told the stories we love to watch on repeat and can now with Disney+.
Beauty and the Beast
Disney Movies from 90s: This is a "story as ancient as time," and believe me, it never gets old! Could the unusual couple Belle and Beast fall in love? The enchanted castle is full of enticing tunes, smiles, and of course…love!
This film was released in 1991 and has enchanted audiences ever since. For this one, gather the kids, some popcorn, and your favorite blanket.
Hocus Pocus (Halloween)
Without Hocus Pocus, the 1990s would not have been the same! It was launched in 1993 and has since become a Halloween classic in most families. The Sanderson Sisters cause a lot of havoc in Salem.
It's hardly terrifying, even though it takes place on Halloween. The picture will appeal to both adults and children. Just a heads up: the black candle must be lit by a virgin, so the youngsters may have questions towards the end.
Nightmare Before Christmas 
Another creepy picture was released in 1993. Jack Skellington is the show's star, and he even kidnaps Santa Claus. Can he spread the holiday cheer? To find out, read this classic story. Keep in mind that some younger viewers may be scared, so keep that in mind.
The Lion King
The Lion King was released at the ideal time in 1994. The soundtrack was fantastic, the film was fantastic, and fans all around the world liked it. After you've dried your eyes from the start, you're bound to chuckle and sing along to the catchy tunes. Watch to see if Simba can overcome Mufasa and restore peace to the pride and his home.
The Santa Clause
In 1994, another amazing feel-good film was released. Perfect timing for the holidays! Gather the family and watch Scott Calvin take on the role of Santa. It's a difficult job and concealing his increasing belly and white beard is difficult. You'll undoubtedly laugh a lot along the road!
The Toy Story
90s Disney Movies: Tim Allen had a lot on his plate in the 1990s! In this 1995 film, he provides the voice of Buzz Lightyear. Buzz and Woody disagree, but can they reconcile? Discover what true friendship entails and what toys do when you are not present.
While there have been sequels, the first Toy Story is where it all began. You may even cry at the conclusion of the film, so don't say I didn't warn you.
Pocahontas
In this 1995 Disney film, the story of Pocahontas is brought to life. You'll witness a little bit of everything, from romance to music you can't help but sing along to. Find out if Pocahantas and her love, Captain John Smith, can overcome challenges and end up together.
A Goofy Movie
A Goofy Movie, another animated picture released in 1995, will undoubtedly make you laugh out loud. I mean, is it possible to see Goofy and not laugh? Goofy and his kid, Max, embark on an entertaining road trip. This is a great story of a loving father and a growing little son trying to figure out his individuality from his father.
If you enjoy this 90s movie, On Disney+, watch the vintage animation Goof Troop. It's packed with more Max and Goofy escapades!
The Hunchback of Notre Dame
The Hunchback of Notre Dame, which was released in 1996, might be one of the best films ever filmed. While it does not receive as much attention as other Disney films, it should! Fall in love with Quasimodo and his compassionate heart, and sing to the music.
Hercules
Hercules was a smash hit in 1997! Travel alongside Hercules to see if he has what it takes to become a true hero. There will be conflicts, self-sacrifice, and even some mushy love! Oh, and you'll enjoy the music as well.
Aladdin
A lovely magical carpet ride through the city of Agrabah. Join us on an adventure packed with genies, royalty, and fun. This incredibly touching picture was launched in 1992 and has remained a fan favorite ever since.
The Rescuers Down Under
The animated film The Rescuers Down Under first appeared in 1990. This Disney Renaissance-era film became an instant classic. The protagonist, Cody, and his supporting cast will win your heart.
Mulan
Mulan is a young woman who isn't afraid to fight in the army. She disguises herself as a male and goes on to become a hero! In this fantastic 1998 film, follow Mulan and all the entertaining songs.
Conclusion on Disney Movies from 90s
In this article, we have described the best 90s Disney movies. Hopefully, you enjoy these classic Disney movies from 90s!