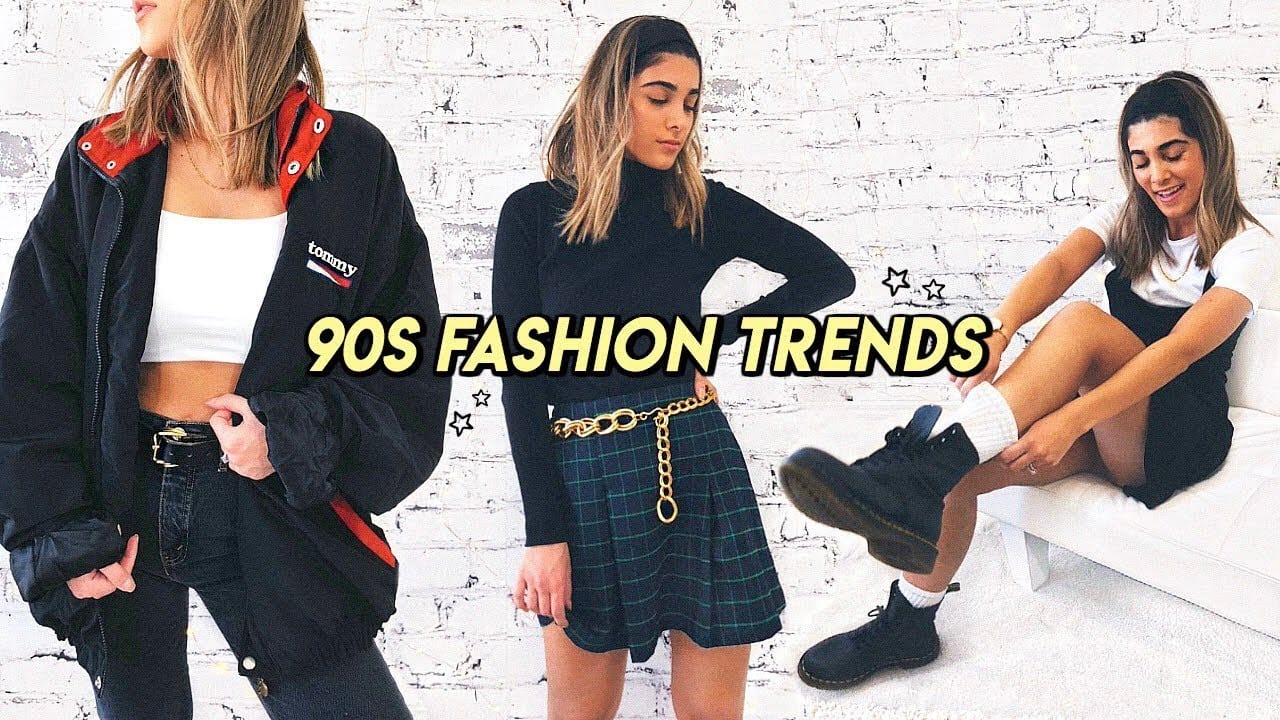 Female 90s Fashion: 1990s Women's Clothes, Outfits, and Trends. The 1990s saw fast change, expansion, and progress. Fashion reflects social features in what individuals wear. The mini skirt and power-dressing revolutions made fashion more flexible for women in earlier decades, but the 90s encouraged creativity. All parts of culture, from music and TV to politics, influenced what women wore.
Why Women's 90s Fashion trend was Popular
The 90s Female fashion trends are among the most well-known, popularized, and worn today. The reason why is not particularly obscure. Fashion trends become more and more international as internet accessibility and exposure to entertainment media like television, music, and movies increase. Although the 1990s witnessed a wide range of fashion trends, everyone could find something they liked. Women chose the trends they felt most comfortable flaunting, whether it was an androgynous style or a fierce grunge look.
Regarding the Indian subcontinent, we witnessed the fast growth of the cinema and television industries, which allowed viewers to see what their favorite actors liked to wear. The Indian fashion industry also developed into a more organized field, which led to the expansion of many of the country's top designers. The Design Council of India (FDCI) was founded at the end of the 1990s, providing Indian fashion a unified voice and giving 90s women's fashion a modern spin.
The 1990s saw a rise in young activism thanks to fashion, which also gave carefree looks with a hint of revolt. The decade's main trends were grunge and minimalism, with hip-hop and "sexy schoolgirl" fashions also popular. Designers like Marc Jacobs and Alexander McQueen created grunge by taking their cues from the squalor of urban life. A new generation of skinny models, led by Kate Moss's "heroin chic" aesthetic, has supplanted the previous generation of supermodels. The "too cool to care" mentality that Moss exemplified was extensively replicated in the fashion industry. As followers imitated the distinct fashion senses of their musical heroes, music, and fashion also went hand in hand.
90s Clothing: Female 90 Fashion: 1990s Clothes, Outfits and Trends
Wide-leg and flared patterns predominated for a very long time before skinny jeans became everyone's preferred denim style. These pants were very popular in the 1990s due to a fondness for loose, baggy silhouettes. Because of their laid-back look, they were ideal for daytime wear, but these must-have trousers were also on display at night when paired with crop tops. To modernize this outfit for today, think about going with a cropped pair of flared jeans. What styles dominated the 1990s?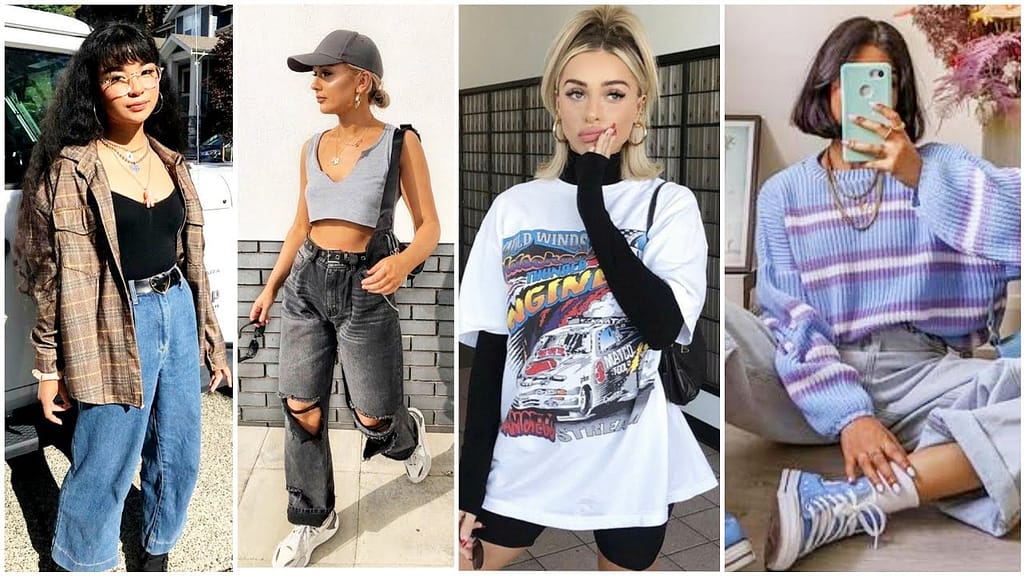 How to Style Flared Jeans: Female 90s Fashion: 1990s Clothes, Outfits and Trends
Chokers
Chokers were "in" in the 1990s when it comes to fashion accessories. These choker-like necklaces fit snugly around the neck and gave clothes an edgier touch. Others had a cloth construction and charms and diamonds, while several were constructed of stretchable plastic and intended to seem like tattoos. Chokers are firmly back in style for 2020 and can provide a stylish '90s touch to a variety of outfits.
Hoops of Jewelry
The '90s saw the zenith of the popularity of many different types of jewelry, not just chokers. During the decade, hoops earrings also had a significant moment. These ring-shaped earrings, which were worn by women everywhere, gave many outfits a little of attitude. Making them as large as possible was the main guideline while donning this provocative jewelry piece. After all, if jewelry doesn't communicate anything, why wear it?
Halter tops
A crop top is a need if you want to channel the 1990s in 2020. These midriff-baring tops, which were a must-have piece of clothing for women in the 1990s, are currently in style. By wearing a crop top with a pair of mom jeans now, you may revisit the finest looks from the decade. Celebrities and street style icons alike adore donning this fashionable ensemble. Simply replace the cropped camisoles with short t-shirts, sweaters, and tank tops to update the style.
Overalls
It's likely that you wore overalls if you grew up in the 1990s. These sleeveless denim jumpsuits were a must-have piece of clothing for the decade and were worn everywhere by both men and women. Since the 1990s, overalls have become a relaxed and cozy wardrobe mainstay and are no longer simply for farmers. Try teaming a pair of vintage blue overalls with a crop top, sneakers, and your favorite sneakers to sport this outfit in true '90s fashion.
Scrunchies
When getting dressed in the 1990s, your look included more than just clothing. The crowning glory was your hair. The hairstyles of the '90s were everything from simple, to scrunchies and other hair accessories. One of the most popular hair accessories of the '90s was the scrunchie. Scrunchies came in several styles and could be used with any hairstyle, including a ponytail, a bun, or pigtails. They varied from simple satin to luxurious velvet.
90s Shoes
In the 1990s, shoes followed the same fashion trends as clothing. The grunge movement gave rise to a force of both men and women who wore sturdy combat boots. They went well with anything from slip dresses and florals to flannel shirts and torn denim because they were rugged and gritty. The minimalist trend popularized Birkenstocks as the footwear of choice. Birkenstocks were simple, comfortable, and available in a wide variety of patterns and colors, all while retaining their signature minimalist aesthetic. The pop music industry, in notably the Spice Girls, contributed to the popularization of platforms. The Chuck Taylors from Converse, the Mary Janes from Manolo Blahnik, and the traditional water slides were also very popular.
1990s Hip Hop Style
Hip-hop clothing was probably what you were wearing in the 1990s if you weren't rocking a grunge or minimalist look. Hip-hop fashion, which was popular in metropolitan areas, was characterized by loose shapes, casual fabrics, and sports-inspired accents. The look was compatible with the same music genre as grunge. As a result, hip-hop celebrities served as fashion icons and the best sources of wardrobe ideas.
90s grunge style
One Teaspoon Festival Johnnies Reclaimed Vintage-Inspired Cropped Long Sleeve T-Shirt with Back Print Low Waist Wide Leg Jeans with Rips
Female Celebrity Style of the 1990s
Famous people were a major source of inspiration for '90s fashion. A generation's taste in dress was affected by musicians, performers, and even the occasional model. Although it was common for people to imitate others' outfits and hairstyles, those who were able to effectively innovate were celebrated. Everybody aspired to emulate their favorite performers, whether it was Britney Spears, Madonna, Gwen Stefani, or a member of the Spice Girls. Britney gave us the schoolgirl look while Gwen Stefani popularized the grunge approach and Madonna wore the iconic Jean Paul Gaultier cone bra. Each member of the Spice Girls had her own unique style, but they were united in their appreciation of art and their desire to stand out. Everyone in the '90s knew which Spice Girl a girl was, whether she was Posh, Baby, Scary, Sporty, or Ginger. Kate Moss was a genuine fashion star, but both Winona Ryder and Drew Barrymore were fashionable in both real life and on television.
Grunge style was the pinnacle of the '90s anti-fashion mentality. Grunge was one of the decade's most popular trends, giving clothing a tough and rebellious makeover. Grunge fashion has recently experienced a resurgence in appeal, as seen on the runway and in public spaces. Grunge fashion staples like shredded jeans, loose t-shirts, plaid shirts, and layered slip dresses are back in style.
Vintage '90s Cuts Amazingly unique hairdos emerged during the '90s. The decade of the 1990s gave rise to several iconic hairstyles because of the carefree attitude of the era's fashion. This decade's most popular hairstyle, "The Rachel," was inspired by Jennifer Aniston's Friends character, and copied by women all over the world. Choppy, layered hairdos from the '90s, such as "The Rachel," framed the face. Those who choose not to follow the pixie cut style of the '90s wore their hair in updos. The half-up, half-down hairstyle was modern and uncomplicated, while the schoolgirl look had pigtails that were braided into two little buns at the ends. The fun of '90s haircuts was amplified by the abundance of available hair accessories. Scrunchies, butterfly clips, bandanas, and colorful hair streaks were worn with pride by many. And crimping would be silly to overlook.
90s Updated Style Trend: Female 90s Fashion: 1990s Clothes, Outfits, and Trends
You must update styles to make them appropriate for contemporary culture if you want to wear the '90s fashion trend today. Recreate looks in a contemporary and up-to-date fashion rather than replicating them exactly as they were in the 1990s. The idea is to maintain a current, fashionable appearance while channeling the "too cool to care" attitude of the 1990s. To achieve this, combine iconic '90s pieces like crop tops or chokers with stiletto boots and thin jeans in your everyday wardrobe. Alternately, add layers by donning a t-shirt underneath or go for a '90s half-up haircut with your favorite new dress. In either case, embrace the carefree, youthful vibe of the 1990s and have fun with your sense of style.
FAQs About Female 90s Fashion: 1990s Women's Clothes, Outfits and Trends
1. What styles dominated the 1990s?
Scrunchies, overalls, crop tops, chockers, and flared jeans are a few 1990s female fashion trends that are currently popular.
2. What wore mothers do in the 1990s?
Moms wore visors on their heads, high-waisted jeans, flannels, and fanny packs around their waists in the 1990s.